The Biggest Holiday Trend This Christmas? Cannabis is King Says New Consumer Survey
Holidays are a period utilized as a distraction from work and just a time to let go and have fun to relax with friends and families. Christmas, regarded as the chief of all the holidays, usually involves overindulgence or mindless drinking and partying in a bid to let loose, forget problems and throw oneself into the spirit of the holidays. The new trend of authorization of cannabis all over the US is bringing about a shift in the way we celebrate. As reported by CBD Oracle research company, about 70% of cannabis users plan to consume more weed (for recreational purposes, to ensure a good night's rest, or just going wild) and less booze over the holidays. This implies that more people will start getting comfortable smoking weed to de-stress out in the open.
The Chief Unwinding Agent
According to a new report obtained from CBD Oracle, a research company based in California, at least 69% of 2000 persons are planning to utilize cannabis as a means to let loose during the holidays, whether it is to get relief from stress, have a great sleeping experience at night, or lift their mood.
Over 60%, however, mentioned that they would need it to cope when they contact family members who carry dissenting views of their own, mainly when discussing COVID vaccines and their potency, conspiracies, and being around people who have not collected the vaccines.
But in the spirit of the season, about 48% said they would be glad to share their weed with family members because everyone needs to let loose and relax for this season. Also, they will primarily provide pot-infused beverages and edibles as presents. Because if there's one thing that a bulk of people will agree on, it is making it legal and losing the old clichés and the shame associated with using marijuana.
Goodbye to Liquor Rage
As is often the festive period norm, during the excessive indulgence on eggnog, booze, bubbly, and cherry cocktails, another 66% said they would be chosen by taking cannabis products over alcohol at least part of the time during the holidays, with another 43% making the entire swap, which is an ongoing trend.
Sadly, that could mean an increase in people who will be driving high. Close to 50% of people in the survey said that despite usually driving, not under the influence of alcohol, they indulge in cannabis. Although 27% made known that they are always wholly sober when they move, the number of respondents willing to drive while high is a cause for alarm, mainly with the recent development that car crashes that result in injuries go up by 6% in legal adult-use states.
Researchers largely attribute this to mixing alcohol and cannabis, but it remains an understandable cause for concern. 
As the CDC says, this period is essential and unique for adults and young ones. It has to be enjoyed as safely and calmly as possible.
Purchases Of Cannabis During This Festive Period
Due to the legalization, cannabis will play a massive part in the festivities this season in gift-giving and celebratory use by its consumers. According to Jushi Holdings Inc. CEO and founder Jim Cacioppo, a high percentage of cannabis consumers in adult-use states plan to consume cannabis during their holiday celebrations this year. The results from the polls are also being utilized to bring out helpful information about the purchasing patterns of adult-use cannabis consumers and the driving force behind their shopping for this season and all around the year.
The survey was done with the data from 1000 adults who are consistent consumers and customers of legal cannabis from a dispensary and or delivery services who reside in states where recreational marijuana has been legalized.
It was indicated from the survey that typically, about a quarter disburse between 50 dollars to 100 dollars monthly on procurement of cannabis products. At the same time, 26.5% reported that they spend 100 dollars to 150 dollars, and around one-third of them (33.9%) said they usually spend 150 dollars or more on weed monthly. Amidst the entirety of respondents, 91% informed that they planned on using cannabis as a part of their celebrations during this holiday season.
75.6% of the people who are a base for the survey said they intend to give cannabis or marijuana-related products as gifts during this festive holiday. In addition, more than 88% informed that they would be more inclined to make purchases of cannabis gifts if marijuana were to be made legal across the United States, indicating that cannabis gifts will become even more popular as the trend of legalization spreads from state to state.
Shopping Preferences Of Cannabis Consumers
The poll also surveyed various aspects of the participants' cannabis products shopping patterns. 56.6% mentioned that their preferred means of shopping for cannabis products were personal purchases at a dispensary. In comparison, another 23.8% declared their preference for shopping online before picking up their order at the dispensary or roadside. Lower than one-fifth (19.6%) made known that their preferred way to procure cannabis products was to make online purchases for delivery to their doorstep. 
When the inquiry into the preferred form or types of cannabis products was made, close to two-thirds (64.8%) declared that they liked marijuana edibles. 51.8% said they chose cannabis flowers, although almost as many (46.2%) disclosed liking vapes. There was also popularity of joints amongst the survey respondents, with 44.5% making known that marijuana pre-rolls were one of their favorite types of cannabis products.
Survey respondents indicated the two most crucial factors in choosing cannabis products, with THC intensity or levels (50%) and the price having top priority in the rankings. 32.4% reported that the variant of cannabis was a determining factor in their selections.
BOTTOM LINE
Given the surveys carried out for this report and that these coming weeks are bound to be stressful because celebrations for the season are in full effect, it is best to purchase your cannabis products as early as possible. So, you can have more time to do other essential things such as baking and shopping.
CANNABIS SALES TRENDS, READ MORE…
LIQUOR AND MARIJUANA SALES ARE ALMOST IDENTICAL NOW!
OR..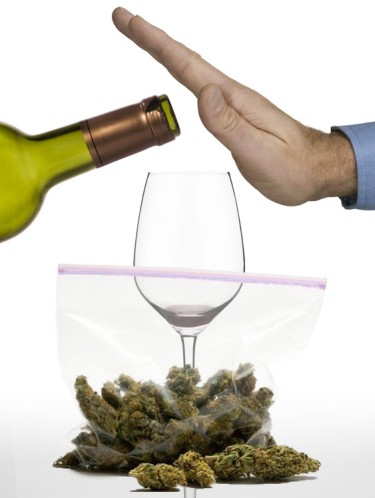 CANNABIS CONSUMERS SAY NO TO BOOZE AND YES TO WEED THIS YEAR!