How to Explain Your Cannabis Plant's Nutrient Deficiencies and Excesses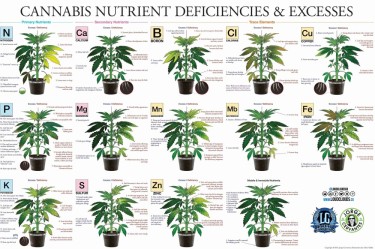 I saw this awesome cannabis graphic on Twitter posted by Cannabis Hub HQ which illustrated different plant symptoms to help growers identify whether they have a nutrient deficiency or are overfeeding their plants. While the picture is awesome and covers a lot of information, the major problem with it is that it's very small. Most people will be unable to read it without zooming in, and thus to compliment this fantastic work by "Jorge Cervantes" and "LoudClouds" – the original people who made it, I've decided to write out each block for your convenience.
Now, if you identify something, you can look it up right here on Cannabis.net.
Let's get started since there's a lot to cover.
Primary Nutrients
NITROGEN:
Deficiency:
Lower leaves turn yellow

Leaves lose luster

Yellowing progresses upward

Leaves continue to yellow, curl and discolor.

Leaves start to drop

Plants are shorter with smaller leaves

Premature Flowering and Low Yield
Excess:
Bottom leaves turn lush dark green

Greenness moves up

Foliage becomes weak

Stems become weak

Water/fluid transport system becomes weak

Harvest tastes green
PHOSPHOROUS
Deficiency:
Leaves turn bluish green

Petioles turn purplish color

Vertical and Lateral Growth Slows

Dark copper-colored or purple-to-blackish dead blotches on lower leaves

Severely affected leaves develop dark bronzish metallic purple colored leaves continue to curl, contort, wither and drop

Weak plant susceptible to diseases and pests
Excess:
Zinc and iron micronutrient deficiencies




Newer leaves develop interveinal chlorosis

New Leaves grow thin blades

Leaf tips and margins burn

Less intermodal space

Diminished harvest

Calcium and Magnesium Deficiencies appear




Lower leaves curl, develop spots

Root tips die black

Dry buds have a chemical taste
POTASSIUM:
Deficiency:
Older leaves turn pale and suffer chlorosis

Leaf margins, tips turn rusty color and burn

Stems often become weak, scrawny and sometimes brittle

Stem branching may increase

Flowering retarded and diminished
Excess:
Root zone is acidified

Causes Calcium, Magnesium, zinc and iron deficiencies




Newer leaves develop interveinal chlorosis

New leaves grow thin blades

Leaf tips and margins burn

Less intermodal space

Lower leaves curl develop spots

Root tips die black.
SECONDARY NUTRIENTS
CALCIUM
Deficiency:
Lower leaves contort and curl

Yellowish-brown irregular spots develop on leaves and margins

Flower development is slow

Root tips may die black

Stunted plant, diminished harvest
Excess:
Minor leaf wilt

Growth may be stunted

Uptake of potassium, iron, magnesium and manganese blocked.
Magnesium
Deficiency:
Deficiencies exist 4-6 weeks before outward signs are apparent.

Interveinal yellowing and irregular rust-brown spots appear on older and middle-aged leaves

Overall sickly appearance

Older leaves dry, often curl and drop.
Excess:
Stunted Growth

Dark green foliage

Symptoms appear as an overall salt toxicity
SULFUR
Deficiency:
Young leaves turn lime-green to yellowish and growth is stunted

As shortage progresses, leaf veins yellow and lack succulence

Leaf tips can burn, darken, and hook downward

Long purple streaks might appear the length of the stem when combined with an overall nutrient deficiency

Steps often turn woody

Bud formation is slow and weak
Excess:
Overall smaller plant development and uniformly smaller, dark-green foliage.

Leaf tips and margins could discolor and burn when excess is severe.
BORON:
Deficiency:
Stem, tip, and roots grow abnormally

Growth shoot appear burned and may contort

Necrotic spots develop between leaf veins

Leaves thicken and become brittle

Rust colored corky stems develop

Root tips often swell, discolor and stop elongating
Excess:
Leaf tips yellow before appearing burned

Leaves yellow and drop
Manganese
Deficiency:
Young leaves show interveinal chlorosis symptoms first

Necrotic (dead) spots develop on severely affected leaves, which become pale and fall off.

Telltale sign of manganese deficiency is where margins remain dark green around interveinal chlorosis

Symptoms spread from younger to older leaves as the deficiency progresses
Excess:
Young and newer growth develops chlorotic, dark orange to dark rusty-brown mottling on the leaves

Tissue damage shows on young leaves before progressing to older leaves
ZINC
Deficiency:
New and young leaves exhibit interveinal chlorosis, develop small, thin blades that contort and wrinkle.

Often stem tips fail to elongate and growing shoots/tips become bunched up.

The leaf tips and later the margins discolor and burn

Reduces intermodal spacing, stunts new growth, including buds, and can severely diminish yield.
TRACE ELEMENTS
CHLORINE
Deficiency:
Leaf tips and margins burn, turn bronze color

Young foliage turns pale green and wilts

Roots develop thick tips and become stunted
EXCESS:
Yellowish-bronze leaves are smaller and slower to develop.

Young leaves develop burned tips and margins
NOTE: Both severe deficiency and excess of chlorine have the same symptoms: bronze-colored leaves.
MOLYBDENUM
Deficiency:
In cold weather, older and middle leaves yellow with possible interveinal chlorosis

Leaves become distorted, margins dry

Leaves drop
Excess:
Causes a deficiency of iron

Leaves discolor
COPPER:
Deficiency:
Young leaves and shoots wilt, contort and may die black

Leaf tips and margins turn dark-green to copper gray and die black

Growth is slow and yield decreases
Excess:
Slower overall growth

Interveinal iron chlorosis

Fewer branches grow

Roots start to decay, or become thick and slow growing.
IRON:
Deficiency:
Young leaves and shoots develop interveinal chlorosis starting at the opposite end of the leaf tip.

As deficiency progresses more and larger leaves demonstrate interveinal chlorosis

Leaves may develop necrosis and drop

Growth is slowed and harvest diminished.
Excess:
Leaves turn bronze, with small dark-brown leaf spots

Phosphorous uptake is impaired, signs appear in lower leaves.
MOBIE & IMMOBILE NUTRIENTS
Deficiency:
Immobile nutrients show nutrient deficiency and excess on newer leaves

Mobile nutrient shows nutrient deficiencies & excess on older leaves

Toxic salt buildup locks out nutrients causing deficiencies & excess

Overwatering is common. Causes nutrient deficiencies & excesses. Drowns and rots roots.
AVOID NUTRIENT PROBLEMS WITH:
Air circulation

Air ventilation

Air temperature

Air humidity

Adequate light

Clean water

Organic Soil

Regular Maintenance
**Irrigation runoff is essential for healthy growth.
FINISH UP
There you have it, the long and painstaking task of extracting the text to take this graphic to the next level. Now you can have the graphic as a main means of identifying issues, and consult this blog for the breakdown of each.
MORE ON CANNABI PLANT NUTRIENTS, READ THESE…
HOW TO SPOT CANNABIS PLANT NUTRIENT ISSUES FAST, READ THIS!
OR..
10 TIPS FOR FIXING NUTRIENT ISSUES IN MARIJUANA PLANTS FAST.