Cannabis Industry Worker Fired for Union Involvement Wins His Job Back in Settlement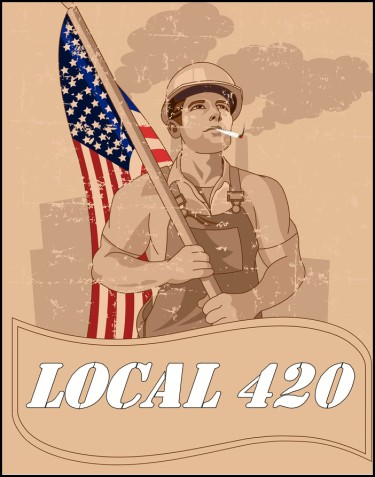 A win for worker's rights as Ben Telford takes up his previous position at Greenleaf Compassionate Care Center in Portsmouth.
A new example has been set for cannabis companies across the country. Affiliation with a cannabis labor union is not and will never be a just reason to terminate employees' appointments.
The United Food and Commercial Workers (UFCW) was able to reverse  Ben's wrongful termination to prove that union members still deserve their handsomely paying jobs.
UFCW is a body representing about 10,000 workers in the Frontline of Rhode Island and Massachusetts cannabis industry. This win against Greenleaf Compassionate Care Center is a win for all employees in the union. It means they can keep discussing union and workers' rights even in the open.
The Backstory
On 23 June 2021, Ben Telford got to his primary place of assignment only to learn that his employment had been terminated. This unexpected development astonished not only Ben, but every other employee in the UFCW Local 328. Further inquiries pointed out that Ben lost his job due to his association with the union.
This happened about eight weeks after Greenleaf Portsmouth employees became the first Frontline cannabis workers to unionize and register under the UFCW Local 328. Greenleaf workers in the union cut across the budtending operators, online teams, delivery workers, and other keyholders.
Ben, who was described as hardworking by his associates, started working at Greenleaf in mid-2020. He served as a keyholder at the company's medical cannabis retail facility based in Portsmouth. He was in charge of opening and closing the stores each day. He also had other responsibilities like cash management during daily operations and standing in place of other management workers in their absence. In the created union, he served as a member of the negotiating committee (he still serves on this team).
Ben Telford served diligently and was a vital member of the union. He helped get the union together as well as got a contract negotiated with the company's board. Telford reported that a part of him had thought about the possibility of being fired.
Taking Charge
Employees in the cannabis industry, regardless of which legal state, all want the same thing; Protection and fair pay.
To show allegiance to the union and protest the illegal termination, the other employees at Greenleaf embarked on a day-long strike on June 26. In the statement released, the union insisted that the company's board reinstate Ben Telford.
Once news spread about the unjust termination, The UFCW Local 328 filed unfair labor practices charges against Greenleaf Compassionate Center with the National Labor Relations Board.
Other charges leveled against the company include the removal of the Friday lunch program,  reclassification of bargaining unit work to a different unit, removal of worker's discounts during a six-week period, interrogation, undue surveillance, and disparagement of employees to gain information on union activities.
The investigations by the National Labor Relations Board (NLRB) took over two months before it was duly established that the company violated worker's rights by terminating an employee because he was exposed as one of the bargaining committee members. The NLRB also issued complaints on each charge brought forward, and a date was fixed for trial.
Greenleaf chose to settle every complaint instead of letting the court decide.
Victory!
In an interview, Sam Marvin, organizing director of UFCW Local 328, said that the union was glad justice prevailed. This justice is significant to everyone. It holds the company accountable for its illegal actions. Also, it sends a Goodwill message to every cannabis worker in the frontline and behind the scenes of the industry that their jobs are protected.
Employees can choose to organize union actions without fearing that their rights and jobs aren't secured. He added that UFCW is proud and remains dedicated to standing firmly with employees in the industry to ensure their futures are secured and improved. He also emphasized that the union is always ready to hold defaulting employers accountable once injustices are detected.
Greenleaf workers issued a statement following the release of the NLRB investigations reports. They expressed their gratitude to the agency for diligently maintaining integrity during the course of the investigation. They wrote that the outcome of the inquiry reassured them that workers had a shot at taking a recourse when employers mete out infractions. Forming a union has been challenging and arduous, but it has helped create a less unstable future.
The statement was ended with a short word of encouragement to employees in other cannabis legal states. They advised these individuals to organize and unionize irrespective of the company they work for. They also thanked the UFCW Local 328 for its ever-present support as well as the provision of resources needed for this process.
Added Benefits
The settlement details between the unionized cannabis workers and Greenleaf Compassionate Care Center is as follows.
Payment of salary arrears for eligible union workers who were refused their employees discount during the six-week duration

Back pay for workers affected by Greenleaf's removal of the Friday lunch program since June.

Restoration and protection of union bargaining committee for crucial stakeholders with immediate effect

Restoration of the Friday lunch program with immediate effect

Immediate reinstatement of employee status on Ben Telford with total compensation of salary arrears, sages, interest, and every other additional payment.

A legal commitment by the company to refrain from interfering with employees' rights as written under section 7 of the National Labor Relations Act.
Conclusion
Greenleaf Compassionate Care Center has agreed not to discipline, disparage, monitor, or discharge workers due to their unionized activities. In addition to this, it signed a commitment not to create new positions in a bid to workaround collective-bargaining positions.
Most importantly, Ben Telford has been offered his previous position total compensation for all arrears due. The six-month battle against the company paid off in the end. The workers are proud of the union and are more committed to organizing and working together to ensure injustice is curtailed. They deserve to have the future they all have worked for and earned.
THE MARIJUANA INDUSTRY AND UNIONS, READ MORE…
CANNABIS DISPENSARY UNIONS, YAY OR NAY? CLICK HERE!
OR..