Buying Weed Through Apple – How the App Store Changes Can Open Payment Systems for the Marijuana Industry
The giant tech company, Apple, has quietly but effectively shown its support for cannabis legalization in the past months. Last summer, the company updated its App Store policies to permit the upload and download of marijuana delivery service apps. Everyone with an Apple device can log into their app store to purchase the delivery service apps of various licensed cannabis companies in their states. 
This move was made low-key, and very few people other than Cannabis.net noticed the move.. The company's amended policies show that it now holds a pro-cannabis stance. Amazon also made a similar show of faith in the cannabis industry last year when it revoked its marijuana screening tests for new and old workers.
Joining The Cannabis Legalization Train
The recent rollout of cannabis laws in various regions in the country, as well as the scientific evidence proving the therapeutic potential of cannabis drugs and hemp-derived products, has propelled giant tech companies like Apple and Amazon to change their stance on cannabis policies.  As we covered in the article, "What Do Apple and Amazon Have Going in Cannabis?", does this create new ways to process payments for cannabis purchases in the US?
Apple is one of the largest companies in the tech ecosystem in the United States. The company, er two decades ago, followed legal policies that prohibited affiliations with the cannabis sector. However, its move to jump on the cannabis legalization trend was hushed. The company's board changed a number of policies to support the rapidly evolving cannabis industry in the country, as well as provide more information on the plant itself.
Forbes revealed that this change was implemented in June. The tech giant modified the App Store Guidelines to give free access to cannabis companies. A lot of businesses have profited from this move since last year. The little details and fine prints in the new guidelines were thoroughly studied by many cannabis businesses to make proper decisions at the time.
The App Store guidelines state that iOS applications for managing online sales and delivery services of medical and adult-use cannabis can now be hosted. Apple users based in legal states will finally have access to download cannabis delivery apps from the iOS app store.
No policy change announcements were made after this move, despite being an extremely important change. The company decided to allow customers to find out about the policy changes on their own and in their own time.
The Ideal Time for Reforms
The cannabis policy changes in large cooperatives, coupled with the massive support the plant is getting from mainstream celebrities, could not have come at a better time. The huge changes will influence the government to make more progressive amendments to the existing laws.
Many experts believe that these moves will encourage federal lawmakers to consider the positives offered by cannabis decriminalization. Citizens have been battling with the federal government for cannabis decriminalization for many decades now, but past and present presidents have done little to enact changes. Biden even rolled with cannabis campaign promises to get into office, only for him to maintain his previous anti-cannabis reform stance—as observed in his reluctance to make any fundamental changes to the federal cannabis sector.
A recent poll shows that 68% of American voters support cannabis legalization, medical or recreational, for any reason. The states with cannabis legislation have started to take advantage of the interest of giant corporations in the cannabis industry. Apple's new guidelines can be utilized by many operations in the cannabis sector, from producers to retailers and delivery service experts. Even financial technology experts can take advantage of the new App Store policy.
Adair Lion, Co-founder and CMO of Artis Intel and a highly respected financial technology expert, said that his company is entirely making use of the latest developments in Apple's App Store. His company keeps a tab on industries with updated cannabis policies and those that need to change their ideologies to move with the current trend. Lion explained that the new guidelines on Apple's app store would give his company a chance to bridge the gap between cannabis retail and mobile transactions.
Some Giant Corporations Have Not Joined The Train.
Facebook and Google are getting to pick a stand in the ongoing cannabis legalization process. These two corporate giants are more interested in raising revenues for their businesses. They have never shown an interest in matters relating to cannabis legalization, nor have they helped promote newly discovered information on the benefits of cannabis plants.
Both companies still operate under their existing cannabis policies in the workplace. They have not changed their workplace policies to encourage or educate their employees about cannabis use. It is still uncertain whether both global corporations will be joining the advocacy for federal cannabis policy reforms anytime soon.
The Push for Federal Reforms
A federally legal, commercial cannabis industry in America would be monumental. Support for cannabis legalization is at an all-time high. Voters, policymakers, and average Americans are showing a positively changing attitude towards cannabis.
As lawmakers keep doing their part to intrude on federal reforms, corporations like the NFL, Uber, institutional businesses, and mainstream celebrities also have a role to play in pushing the agenda.
Last month, the SAFE Banking Act was passed for the sixth time to provide cannabis businesses with access to financial institutions. In April, another cannabis reform named the Cannabis Administration and Opportunity Act will be unveiled by the Senate Majority Leader, Chuck Schumer.
Bottom Line
The recent change in tides for cannabis reform is similar to what is going on in the crypto ecosystem. Elon Musk and Tesla's interest in digital assets will influence and hasten widespread adoption in the same way they support cannabis reforms by Fortune 100 companies, and lawmakers will kickstart the broad adoption of modified cannabis policies.
The change in Apple's App Store policies will gradually grow payment solutions for the legal cannabis industry. In a few years, decisions like this will be looked back at and considered important gluing factors that helped link fragmented operations in the industry. It may be why Google and Facebook are hesitant to promote cannabis products as their payment systems in Play and FB Store could be used for marijuana purchase, time will tell.
Note that the policy updates strictly adhere to geo-fencing within legal jurisdictions. Most importantly, only licensed legal entities are permitted to have their apps on the store. Non-compliance with these new rules may not be tolerated.
APPLE GOES PRO-CANNABIS, READ MORE..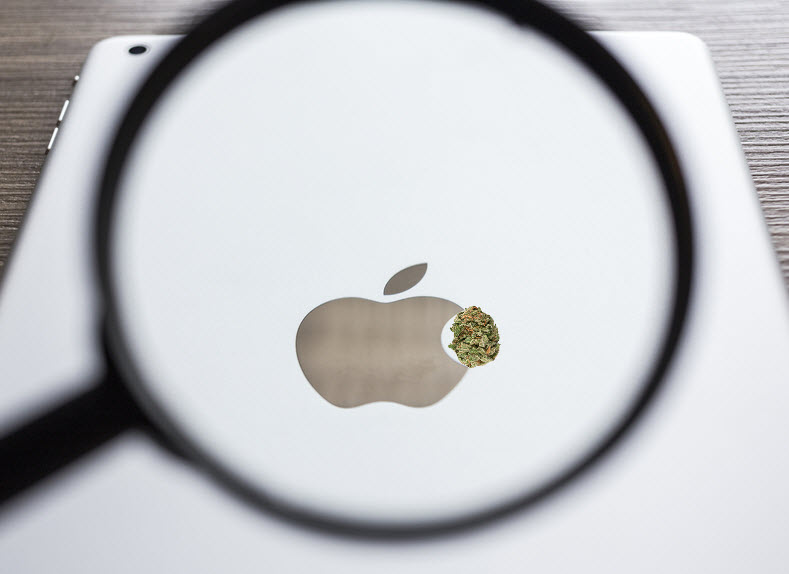 WHAT DO APPLE AND AMAZON HAVE GOING FOR WEED? READ THIS!
OR..