6 Cannabis Headlines in 60 Seconds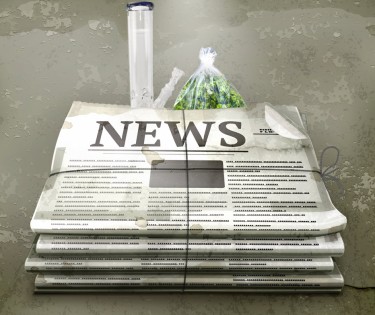 Thailand Becomes First Asian Country To Decriminalize Marijuana
This week, Thailand just became the first nation in Asia to decriminalize cannabis, though the regulations around recreational use are still up for debate.
According to Thai Health Minister Anutin Charnvirakul, the Narcotics Control Board just gave the green light to remove cannabis from the list of controlled substances. The next step will be for the health minister to formally sign the new law, which will be implemented 120 days after it has been announced in the government gazette. The Associated Press got in touch with local lawyers and police to ask whether cannabis possession would still be subject to arrest, to which the answers remained vague. Additionally, since there are several complex laws around recreational use that still need to be sorted, recreational use is still considered a legal gray area.
Last 2020, Thailand made headlines by becoming the first country in the continent to decriminalize production and consumption of cannabis for medical use. These wouldn't have been possible without the hard work of Health Minister Anutin, who leads the Bhumjai Thai Party, and they have been campaigning to legalize cannabis to help the farmers and boost the economy.
Vaccine Passports Required To Enter Quebec Recreational Cannabis Shops
Quebec, home to the 2nd largest recreational cannabis market in Canada, now requires visitors to provide proof of COVID-19 vaccination before they enter any of the dispensaries. They are also the first jurisdiction in the country to implement such a mandate.
There are 81 government-owned cannabis stores in Quebec, though a spokesperson for them disclosed to MJBizDaily that the employees aren't required to be vaccinated. In addition, Quebec also requires proof of vaccination to enter liquor stores.
Malta Becomes First European Country To Fully Legalize Cannabis
Just as 2021 was coming to an end, the tiny country of Malta in the Mediterranean becomes the first European country to completely legalize marijuana.

The move was proposed by Maltese minister of equality, research and innovation, Owen Bonnici, with the intention of reducing the illegal trafficking of cannabis. In addition, the law seeks to put a stop to the oppression experienced by marijuana consumers. However, the bill is vastly different compared to those in the United States since in Malta they explicitly prohibit for-profit marijuana businesses; alternatively, it mandates that non-profit organizations take care of cannabis sales.
Businesses are allowed to sell 50 grams of cannabis maximum for each customer per month. Furthermore, current Maltese law allows citizens to grow up to 4 cannabis plants at home but it's still illegal to publicly consume marijuana. Residents are allowed to possess 7 grams maximum of cannabis on their person while they are outside of their home. However, if residents don't comply with these laws, the punishments are light, with fines of under 100 euros and they don't have to worry about getting arrested or having permanent notes on their criminal record.
Study Finds That Cannabis Consumption Skyrockets While Ecstasy Use Decreases
The European Monitoring Centre for Drugs and Addiction (EMCDDA) conducted a recent survey analyzing consumption habits of respondents based in the European Union.

They found that cannabis consumption has spiked, while the use of ecstasy has decreased significantly. The survey was conducted online from March through April 2021, with the goal of better understanding the drug consumption so that they could better design regulations in the future. The respondents came from 21 countries in the European Nation, as well as 9 countries from outside, and participants were all 18 and older with history of drug use.
"Cannabis was the drug used the most, with 93% of survey respondents reporting to have used it in the previous 12 months and with little variation between countries," says the survey. "MDMA/ecstasy (35%), cocaine (35%), and amphetamine (28%) were the next most reported illicit substances, with the order of the three drugs varying by country. Around a third of respondents (32%) reported using more (herbal) cannabis and 42% using less MDMA/ecstasy."
Though the study acknowledges that the 50,000 respondents only represents a small portion of the continent, it still provides a helpful look into changing consumer patterns. "While web surveys are not representative of the general population, when carefully conducted and combined with traditional data-collection methods, they can help paint a more detailed, realistic and timely picture of drug use and drug markets in Europe. Over 100 organizations took part in the initiative, including the Reitox national focal points, universities, and NGOs."
British Columbia Will Be Promoting Indigenous Marijuana Products
British Columbia will be launching an initiative that will promote cannabis products both online and in retail shops that are made by local Indigenous producers, with the goal of helping consumers easily spot these products whenever they make purchasing decisions.
"The BC Indigenous Cannabis Product Program is an important step to ensure Indigenous business owners are part of this growth and the economic benefits," explains Selina Robinson, BC's minister of finance. "Our commitment to a shared prosperity with Indigenous Peoples is critical to the economic health of our province and to advance lasting reconciliation."
MMJ Prescriptions Spike In Queensland, Australia
In 2021, Queensland issued a record-breaking 68,000 prescriptions for MMJ product, almost double those of the previous year.
"We've seen exponential growth," says Rhys Cohen of the Australian Medicinal Cannabis Association. "Since COVID and the PBS coverage of telehealth, it's likely a lot of those patients are from other states as well that are seeing Queensland prescribers virtually."
In 2016, medicinal cannabis was legalized and there have been more than 300 therapeutic products such as oils, oral liquids, capsules and even dried flower that are made available as long as patients have a doctor's prescription.
"We are seeing a large group of medical practitioners who are moving over to cannabis and that stigma is starting to fall away," says the Cannabis Centre's Nicholas Quinn.
DIG DEEPER INTO THE CANNABIS NEWS, READ MORE..
NO VACCINE CARD, NO WEED IN QUEBEC, READ MORE HERE.
OR..